The Firm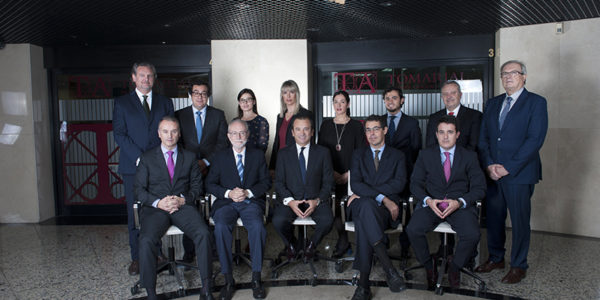 The complexities of Law
We know about the complexities of law.
It is not by chance that in recent years we have developed to become one of the fastest-growing law firms in Valencia. We know how to help our clients to successfully face their legal and corporate challenges. In only a few years, we have grown to become the most reliable law firm for many companies and entrepreneurs.
We know that there are lots of law firms and business advisors in Valencia, where our main of:fce is based, as well as in Spain. But none of them is like ours!.
Law Artisans
When you work with Tomarial, you will immediately notice that we are a fully client-oriented firm.
At Tomarial, the skills of our lawyers and advisors and the excellence of our team are always focused on our clients.
Our work is carried out with utmost care, just like the work of artisans. When a client knocks on our door, we know that he is willing to place his most important affairs in our hands.
At Tomarial, there are no hidden costs. We always have time for our clients, and avoid red tape. We are aware that your trust has a value, and that is why, at Tomarial, the partners themselves assist the clients.
Global people at a local market
Since 2007, when Antonio Ballester Sánchez and Tomás Vázquez Lépinette, former members of two leading law firms in Spain, founded Tomarial, the firm has positioned itself as a boutique firm of globally experienced and skilled specialists, who are also experts in the Spanish market, especially in the Valencian Autonomous Region, where the firm has become a milestone.
In late 2012, Tomarial incorporated the firm Carlos del Romero Economistas into its structure. Carlos del Romero Economistas is specialized in Labor Law, thus adding value to Tomarial.
We are a Firm that watches the world, participates in international transactions side by side with its clients, where frontiers (the ones that are left) and languages are no barriers.
Nowadays, Tomarial´s clients come from all sectors of the business life of the Valencian Autonomous Region. Our clients are both multinational and small and medium-sized companies, as well as individual entrepreneurs who see an added value in the manner we serve them and in our overall outlook of the world.
Lawyers and Tax Advisors
We do not purport to master all areas of Law, but we do strive to be extraordinarily bright in the areas that we do master.
Today, Tomarial specializes in the following areas of law and business:
Tax Law
Tax inspection and verification
Mercantile law
Labor Law
Mercantile law
Accounting and Management Area
Tax Law
General tax provisions applying to business and the businessmen
Tax advisory and planning for companies.
Planning of the IRPF and Tax on Wealth
Indirect taxes
Restructuring of business groups
Tax consolidation
Tax provisions applicable to family companies
Planning of tax on inheritances and donations
Transfer of family wealth
Related transactions and transfer prices
Due diligence
Tax management
Real estate taxes
Real estate Investment and divestiture
Planning of real estate promotion
Indirect taxes on real estate transfer
International taxes
Tax inspection and verification
Advisory regarding foreign investment in Spain
Advisory regarding Spanish investment abroad
Foreign securities holding entities (E.T.V.E.)
Optimization of international structures
Advice to expatriates and inpatriates
Transfer prices
Tax provisions applicable to business restructuring
Acquisition and sale of companies
Mergers and acquisitions, spin-offs, contributions of activity branches and securities exchange
Inspection and tax contents procedures
Enquiries to the Bureau of Taxes and the A.E.A.T.
Assistance and advice on tax inspections
Claims and complaints
Claims before Economic-Administrative Courts and the A.E.A.T.
Claims before the Courts of Justice
Mercantile law
Tomarial advises companies in every stage of their lifetimes: from their inception under any corporate system (corporations, cooperatives and foundations), to the regulation of their business activities (business contracting and business manage- ment), their growth (mergers, acquisitions and restructuring), as well as their most critical stage (suspension of payments).
Tomarial also provides assistance in industrial property law, unfair competition and advertising in various economic sectors.
Additionally, within the mercantile area, Tomarial provides advisory on Corporate Governance, Secretarial activities and Management Bodies and Partners.
Labor Law
Tomarial advises companies in the labor law area, both regarding personnel recruitment and hiring, labor costs, enforcement of bargaining agreements, computation of personnel expenses and any kind of amendment to contractual conditions or employment regulation files.
Mercantile law
Provision of services as trustees bankruptcy (lawyers/economists/auditors)
Business refinancing plans
Feasibility projects
Negotiation with financial entities
Advance agreements
Pre-bankruptcy institutions
Accounting and Management Area
Accounting advice
Accounting management
Tax returns and payments
Compliance with A.E.A.T obligations
Of:fcial accounting books
Preparation of annual accounts and deposit of annual accounts
Registry of Commerce
Digital signature certificate
Tomarial Values
We at Tomarial use our best efforts to create an atmosphe- re of participation. Our clients are important: very much  so. But so are our beliefs and values, which help us better ourselves, grow, improve every day in order to provide the satisfaction of the best service and the tranquility of the best advisory to our clients. What's more, these values, of which we are so proud, are so rooted in our corporate culture that they constitute the core of our company: our brand.
Thus, if we break down our brand letter by letter:
TECHNIQUE
ORGANIZATION
MOTIVATION
ACTION
RESPONSIBILITY
INITIATIVE
APTITUDE
LEADERSHIP
Therefore, we can say that our values are, in themselves, a reflection of ourselves.